---

Mance at Christmas gathering, 1975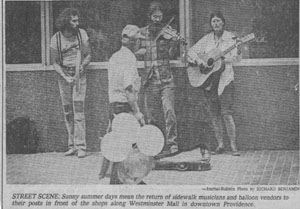 Mance busking with Otis Thomas & his wife Deani in Providence, Rhode Island
Note Mance's early "experimental" bodhrán that's only 1" deep.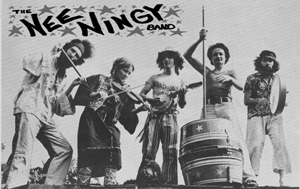 The Times, NC - 1979
by Connie Ballard, Times Staff Writer

"...The Nee Ningy Band is definitely a step off the beaten musical path. Although the five-member group considers its music folk, included in that category is everything from Cajun to country to bluegrass to ragtime to blues to medieval to Irish to European. You name it, Nee Ningy plays it &emdash; and well."

"Mance Grady, who joined Nee Ningy a year ago, also has a classical background. Grady now plays the bodhrán, an oversized Irish drum shaped like a tambourine. 'The instrument is really a compact mini-drum set,' Grady explained. 'You can get different tones by putting your hand (at different places) along the skin.'"

"Whereas many folk bands try to duplicate old versions of tunes, the Nee Ningy Band freely molds the music to its own style. True folk music, members claim, is the product of continuing evolution."
Nee Ningy received a lot of attention, and were also noted in Time Magazine.
The Chapel Hill Newspaper, NC - Sunday, Dec. 9, 1979

ABOUT THE ARTS by Charles Horton

"...an ideal setting, as it turned out, for the antics of Clannad, with the Nee Ningy Band..."

"The five...who make up Nee Ningy shoot for sort of an Irish-Appalachian sound and hit it unfailingly. Their basic format is fiddle, harmonica, mandolin, bodhrán and washtub bass; they have energy and talent in great quantity and are generous with both."
The Seahawk, NC - Sept. 10, 1980

"Last year, the Nee Ningy Band took UNCW (The University of NC at Wilmington) by storm, and delivered an enthusiastic concert that recruited even more fans to their already loyal following."
| | |
| --- | --- |
| | "In this age of home entertainment, disposables, and media manipulation, musical self-expression often takes a back seat to economic considerations and the need/desire to 'make it,' whatever that might mean to whomever. When musical integrity is sacrificed, those responsible undergo the sad transformation from musicians to mere purveyors of product. Pockets of resistance to this circumstance do, however, exist, as they always have and always will. In the form of bands, the more radical of these pockets can be identified by the small but intensely devoted packs of fanatics which appear out of the woodwork during minstrel tours. |

I first became acquainted with the Nee Ningy Band in Providence, R.l., several years ago, and was instantly captivated by their multi-faceted electrically acoustic sound as well as their uncanny ability to keep a steady stream of goodwill flowing through the otherwise alcohol-soaked veins of the ever-rowdy Met Cafe crowd. Nee Ningy music defies categorization: tight without slickness, original but true to tradition, reflective and uplifting simultaneously&emdash;folk/soul.

It used to be that everyone both produced and consumed their own art. The nauseating hordes of mechanical and electronic stimuli and video diddlies that have inflitrated our homes act as suppressants to creativity, giving rise to a serious imbalance between the preparing of art and its dull, sensory absorption. Nee Ningy music is participatory, not exclusive, encouraging the listenerto contribute to the experience.

The unique blend of instruments and vocals completes the emphatic link between the music and those elements inherent in all of us, whether we accept their presence or not.

I'll resist the urge to ramble on about the members of the band individually, since the critical information on each one would gobble up the entire back cover and half the front as well. Suffice it to say this is undeniably the only band in the world that would include Bamako Bop (African fiddle tune), Pace Egging (English a cappella), and Groundhog Blues on one album.

What do you get when you fuse traditional music fanaticism, ethnic ingredients from contemporary and ancient sources, multi-megawatts of energy, a dozen or so conventional and bizarre instruments, a taste for the twisted, and a lust for life? You get Nung, of course!"

Triangle Slim
Bull City. 1981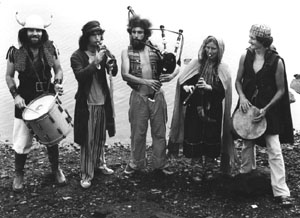 A motley crew in full regalia for a medieval performance.
Mance, Ted Porter, Chris Turner, Rachel Maloney, and Rob Van Veld
make up the Nee Ningy Band!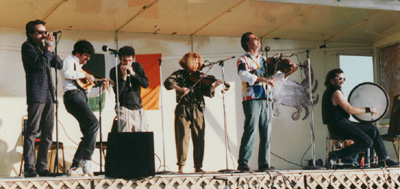 A Nee Ningy reunion of sorts in 1993 with Rob Van Veld, Ted Porter, Chris Turner,
Rachel Maloney, Steve Jobe (guest), and Mance.